Discover our offers on the quay and on board !
To make your tour as enjoyable as possible at all times, Vedettes de Paris offers a refreshment service to suit all requirements, throughout the day
Vedettes de Paris offers you delicious refreshments on board and at the quayside!
With an entirely new restaurant and refreshment service to suit all requirements, Vedettes de Paris now offers a unique culinary experience on the Seine.
Fancy a sweet or savoury snack? Discover the Café des Vedettes and its affordable refreshments. Enjoy a coffee, a cookie or a foie gras sandwich on board or at our terrace on the quay, entirely redesigned to provide a welcoming and friendly alfresco space. Numerous leisure activities are also available on the quay for a pleasant moment with family or friends at the foot of the Eiffel Tower. You can also enjoy an affordable dinner cruise with our onboard lunch options!
And for those who prefer to dine at a table, check out our new restaurant with an innovative fine-dining concept on three floors with an open deck! Everything to satisfy the most gourmet tastes! 
At lunch, at diner or at the aperitif, find the offer that fits you !

High quality products
Discover our selection of fresh and local products chosen to give your taste buds a treat!

Hot or cold dishes
On the quay or on board, enjoy a hot or cold dish as you prefer!

Feeling thirsty
Whether you feel like coffee, champagne or wine, you'll find something to enjoy in our bars on board and at the quayside!

For all ages
From chocolate chip cookies or foie gras sandwiches, our selection will appeal to all age groups!
Our outdoor terrace on the banks of the Seine is getting a makeover with a new offer of local and seasonal snacks, suitable for all times of day.
Come and check out the menu, featuring local and environmentally friendly French products designed with one goal in mind: your satisfaction!
Francette is part of the Fuga Family. Its main goal is to offer moments of evasion to a local community. On 3 levels, Francette offers you 3 different culinary experience with 3 unique atmosphere.
"The Penthouse of Francette", has a first interior room with a glass roof, and next to it, there is a 250 m2 rooftop with the most beautiful view of Paris. On this level, you'll find a street food vibe from day to night.
On the next level, you'll find "Francette", a french restaurant, with local and fresh food.
And on the lower level, « La Cave de Francette »  will offer a surprising concept.
Enjoy the onboard bar facilities on each of our boats to make the most of your cruise. A selection of the best French products, made by local artisans, carefully chosen by a team of enthusiasts to offer you the very best: that is Vedettes de Paris' "special touch".
Book in advance, and we'll take care of everything! Our products are prepared every day before your arrival.
Light refreshments are available with carefully selected products for a gourmet break!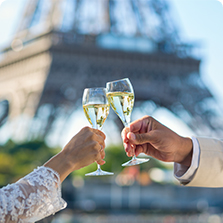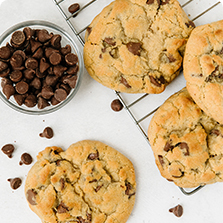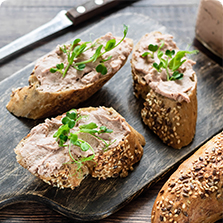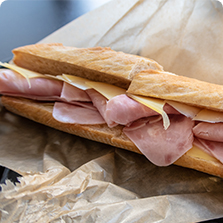 *Alcohol abuse is harmful to your health. Drink responsibly.
Discover our reception rooms available for private bookings for a unique experience by the Seine