Vedettes de Paris & Flyview
Explore the wonders of Paris from the river and from the sky!
Buy tickets
In brief
1-hour cruise trip
35€
26€
Free (0-3 years old)
Tour guide
Audioguide available
French - English
Flyview from 1.20m
Vedettes de Paris
Partnership with Flyview
Valid until 28-09-2024
Buy tickets
Visit Paris with Vedettes de Paris and Flyview on the Seine and from the sky!
Visit Paris with Vedettes de Paris and Flyview on the Seine and from the sky! Vedettes de Paris and Flyview have teamed up to take you on a sightseeing tour of Paris from the Seine, and from the sky. Hop-on one of our boats at Vedettes De Paris, for a one-hour guided cruise along the Seine to admire the monuments and bridges of Paris. Our tour guides will be delighted to share the history of Paris and its emblematic architecture with you during your cruise, for a unique and entertaining experience.
With Flyview, climb aboard your jetpack for a breathtaking flight over Paris! Flying over Paris is the ultimate getaway experience. Experience the city from a completely new perspective, flying with a 360° view from the sky. Your trip will take you over some of the city's most beautiful buildings. From the Eiffel Tower and Concorde to the Arc de Triomphe and Notre Dame. Bonus: a unique excursion to the four corners of the world!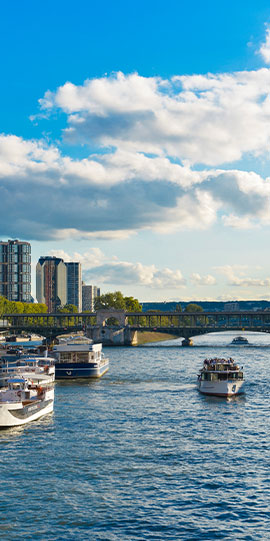 Cruise map
Discover the most famous monuments of the French capital on a cruise along the Seine with Vedettes de Paris.
This route is subject to change in the event of flooding on the Seine.
Buy tickets
Experience an unforgettable moment!
Vedettes de Paris is now offering a new cruise experience: A fresh look at the Seine!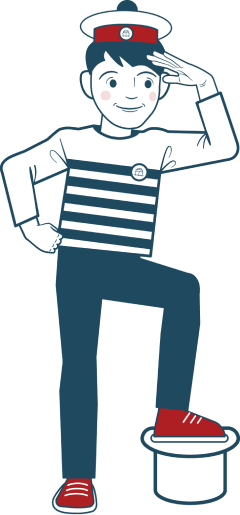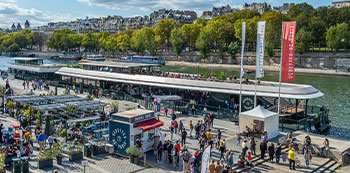 The quays of the Seine at the foot of the Eiffel Tower!
Vedettes de Paris is upgrading its quayside location with an open-air café and regular activities for all ages!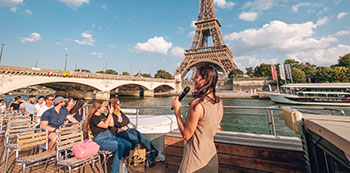 Our expert guides will welcome you aboard!
Sit back and enjoy a fascinating and unique experience with our expert guides, and our multi-language audioguide app!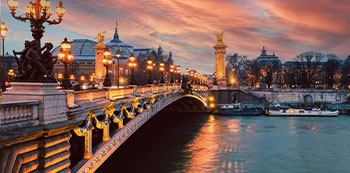 Discover the city's most famous monuments!
From the Eiffel Tower to Notre-Dame and the Musée d'Orsay, enjoy the best views of Paris's monuments!
Buy tickets
Explore the buildings of Paris with a 360° view!
Enjoy an open-air experience and a unique perspective from a 4-metre high viewpoint!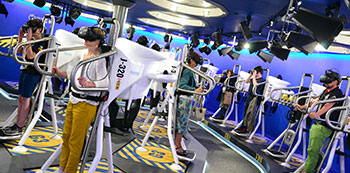 Thrills guaranteed at every level!
A breathtaking virtual reality experience, with the incredible sensation of flying and unique 360° views of Paris!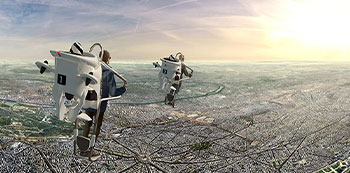 See the sights of Paris from the sky!
Notre-Dame, the Eiffel Tower and Paris's most famous monuments seen from the sky!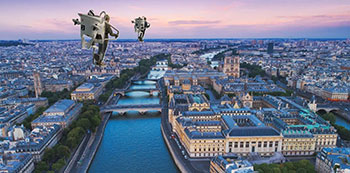 An ideal location right in the centre of Paris!
An experience in the heart of Paris (Place de l'Opéra), to enjoy with family and friends!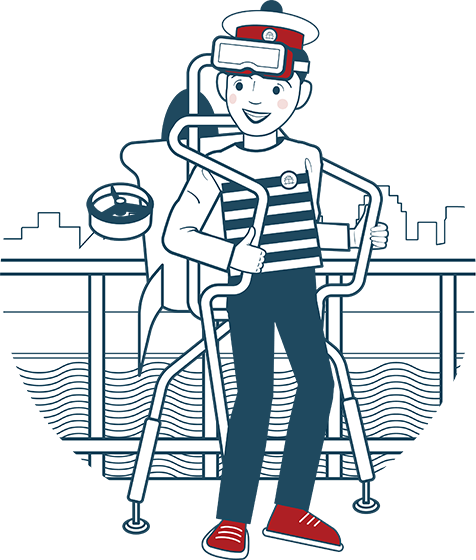 Onboard food services
We offer a selection of light meals prepared with carefully selected products to ensure the perfect gourmet break!
Payment by credit card only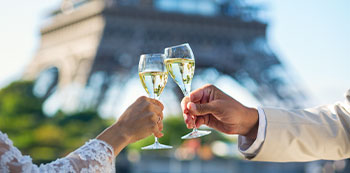 A glass of champagne*
+9€
Our exclusive partner, Maison Duval Leroy, offers you the chance to enjoy its brut Champagne, the ideal accompaniment to your cruise!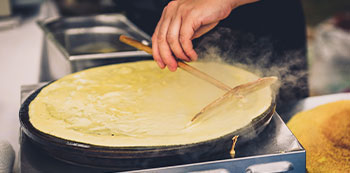 Gourmet coffee and snack
+5.50€
During your cruise, enjoy a crêpe or chocolate chip cookie with a hot or cold drink!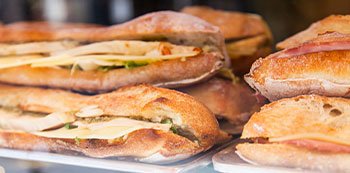 Parisian picnic**
+7.50€
Enjoy a seasonal sandwich made with 100% French produce, accompanied by a chocolate chip cookie and a drink!

*Alcohol abuse is harmful to health, please consume in moderation
**To be collected from Le Café des Vedettes (the quayside terrace café at the Vedettes de Paris) before or after the cruise.
What our customers say
A lovely guided tour of Paris's monuments on the Seine. Clean boat, warm welcome. My advice?

Michael Bougit
30/01/2023
A great way to discover Paris in a unique way. A warm and friendly welcome, a comfortable boat with the option of on-board food and refreshments, and roof-top seats offering great views of the city's waterfront. A very enjoyable guided tour along the river.

Isabelle Roubaud-Devos
24/01/2023
A great experience . Very friendly and welcoming staff. The guide provided excellent explanations in French and English. There's so much to see and learn! I went for my birthday. I was treated to a guided cruise with a crêpe and a drink (courtesy of Vedettes de Paris).

Mathusha Christian
03/08/2022
It's always a great experience. Don't miss this chance to visit Paris and its iconic monuments aboard the Vedettes de Paris cruise boats. A really enjoyable presentation with fun explanations for children. A great experience.

Raz Molly
30/01/2023
I had a great time. Paris, from this viewpoint, is just magnificent. A big thank you to our guide Marjolène, who gave excellent explanations in French and English. We learnt so much!

Evy B.
30/01/2023
A special birthday cruise treat (with the option of an included snack: delicious crêpes prepared on board)! Great commentary and the blue sky was just perfect :)

Coralie Valleray
09/10/2022
Easy online booking, responsive staff, easy and punctual boarding. A one-hour trip with no surprises, but a great experience!

Léna B
30/01/2023
Cruising on the Seine is always a special experience, and a great way to discover our capital from a new perspective. The welcome from the tour guides was simply perfect. Thank you

Belets SG
16/01/2023
A superb experience! Very reasonable prices, top-notch guide, relatively few people on the boat! We took the picnic option, and were pleasantly surprised by how much we got for the price! I highly recommend it!

Matthieu DANOIS
18/01/2023
The Guided Cruise & Flyview in photos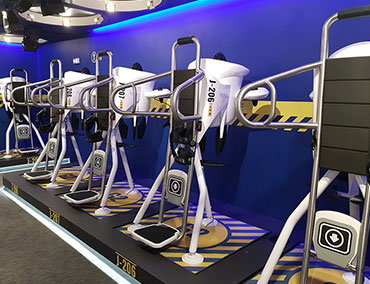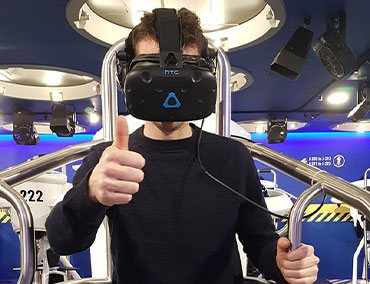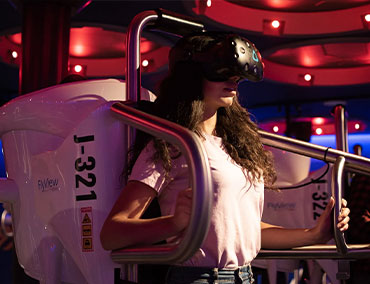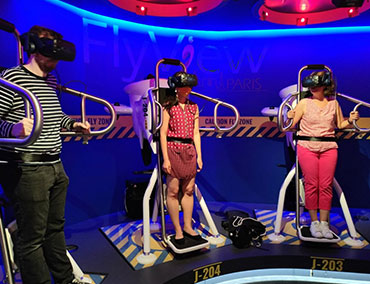 Sit back and enjoy the ride
Plan your trip to Paris and enjoy a relaxing, stress-free visit!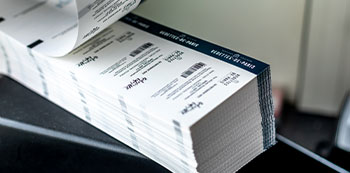 Ticket valid for 1 year
Vedettes de Paris tickets are valid for 1 year, so come along whenever you like!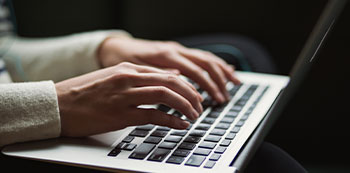 Online booking
Avoid queues at the ticket office by booking your tickets online, and present yourself directly at the boarding gate with your e-tickets.
Your travel guide to Paris
Discover one of the world's most beautiful cities with Vedettes de Paris!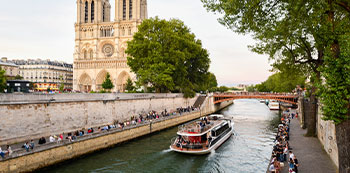 Monuments along the Seine
The banks of the Seine are lined with many historic monuments and museums for you to admire from the river!
Types of boats on the Seine
The Seine is home to many boats with designs and histories as varied as they are fascinating. Among them, our vedettes cruise boats!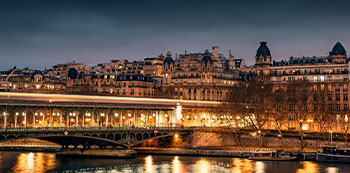 Visiting Paris by night
Paris by night offers a very different experience. The night lights illuminate the Eiffel Tower and the countless restaurants and bars offer a friendly and welcoming setting.
FAQ
Questions and answers about the Guided Cruise in Paris
During the summer season, the first departure is at 10:30 a.m. and the last at 7 p.m. (the following departures are Aperitif Cruises). Departures are usually every 30 minutes.
The price of this cruise is €20 full price (from age 12). 9€ for children aged 4 to 11 inclusive. Babies up to 3 years old are free. Sweet and savory options on board represent additional purchases.
The average cruise lasts about an hour. The ideal time to discover the City of Light and its monuments.

A unique location at the foot of the Eiffel Tower
Port de Suffren - 75007 Paris
+33 (0)1 44 18 19 50
Pedestrian access via Pont d'Iéna, left bank , or via Pont de Bir-Hakeim- Disabled access
Metro Line 9: Trocadero Station Metro Line 6: Bir-Hakeim stop
RER Line C: Champs de Mars
Bus lines 42, 69, 82, 86 : Champ de Mars Bus lines 22, 30, 32, 63 : Trocadero