Barge rental for weddings in Paris
Privatize a barge docked in Paris for your weddings!
Request a quote
Cruising into happily ever after with your wedding venue in Paris
Are you newly engaged and planning a wedding? Does your nuptial vision board include gorgeous backdrops and scenery coupled with absolute romance?
Your wedding will be one of the most important days of your life, so the setting should be equally divine to complement this momentous occasion.
The City of Love is rife with stunning venues, ideal for your dream wedding. But have you considered an unanchored locale?
Love floats with our wedding venue in Paris
With Vedettes de Paris, you have several venues and services to choose from, whether you're seeking a location to work your own magic in or an all-inclusive turn-key event. Whichever you select, you'll have a scene for you and your guests to remember for years to come.
Having your wedding venue in Paris be aboard one of Vedettes' boats provides you with historical and exquisite scenery to enjoy, including magnificent architecture and bridges, light-strewn streets, and, of course, amazing monuments, like the Eiffel Tour. With a slowly shifting setting, your guests will soak up the beauty all around them and in front of them! And depending on the size and style of your wedding, Vedettes de Paris has a few options for you.
One of the newest additions to the Vedettes de Paris flotilla, the Gustave can accommodate cocktail hour on its panoramic terrace, a seated dinner, or chic buffet service on either the main deck or at river level. This floating pontoon boat is top-of-the-line and can hold up to 200 guests, perfect for those larger than intimate weddings. The Gustave moors and makes its berth at the foot of the Eiffel Tour and includes a private VIP space along with a specific lounge area.
For a slightly smaller wedding venue in Paris, the Paris Etoile can easily and comfortably entertain a party of 110 for a celebration you won't forget! Make sure not to miss out on the 360-degree view of Paris from our sun deck while enjoying the fully glazed lounge and bar.
However, if you're planning to include only your nearest and dearest for an intimate ceremony and reception, consider either the Paris Trocadéro or the Paris Iéna, sister boats which each maintain a capacity of 70 guests – after all, sometimes smaller is better when it comes to celebrations.
Every experience aboard one of Vedettes de Paris' boats is 100% tailor-made to work with your budget, requirements, and desires. Contact us today to learn more about our offerings and how we can make your special day better than what you've imagined!
In Brief
Salon principal- 75m²
Salon Lounge - 30m²
VIP Area - 15m²
360° Terrace - 100m²
Rez-de-Seine
Catering room
Tables and chairs
Sound system
A photo of our pontoon
With its modern, elegant and resolutely Parisian design by architects Flahaut-Chenet.

Gustave was inspired by the lines of the company's boats, which were all written by the same pen: Le Paris Iena, Le Paris Trocadéro and Le Paris Etoile.
Request a quote
Highlights of our pontoon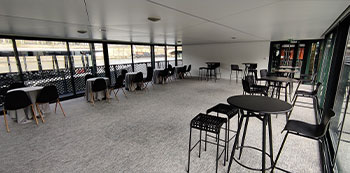 Le petit & Grand Salon
Adorned with large bay windows, these two spaces are open to the outdoors. Warm and modular, our lounges offer you the opportunity to organize tailor-made events.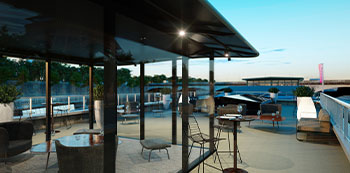 The Rooftop
Between the Seine and the Eiffel Tower, the Rooftop's 100m2 reveal a postcard to share for your events and workshops.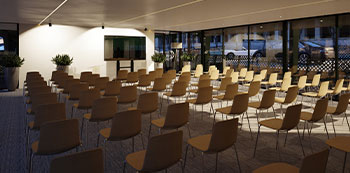 The ground floor
Over the water and on our lower deck, the 98m2 softly lit Rez-de-Seine is a carte blanche to bring your projects to life.
Request a quote
Access to the barge
Access by car
Address: Port de Suffren 75007 Paris. Access to parking lot through automatic barrier, near Bir-Hakeim Station. Parking reserved for service providers only.
Access by public transport
Pedestrian access via the Iéna Bridge, on the left bank, or via the Bir-Hakeim Bidge – PRM access. Metro line 9: Trocadéro station or Metro line 6: Bir-Hakeim station. RER line C: Champ de Mars.
Request a quote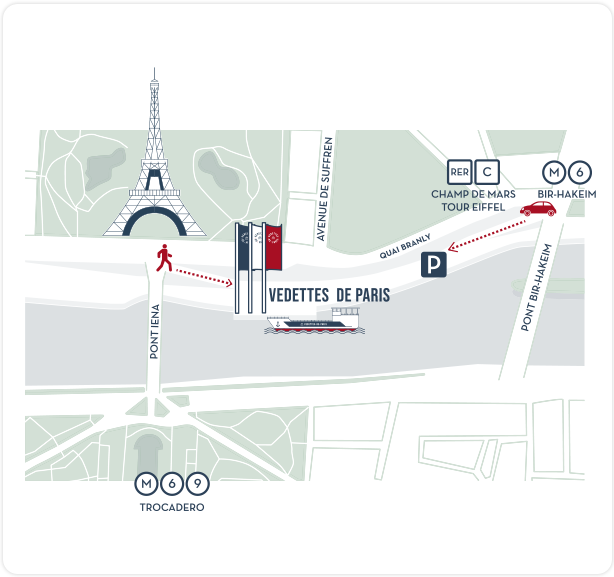 Advantages of renting a barge on the Seine
Renting a barge on the Seine offers opportunities you won't find anywhere else!
Price to be determined on request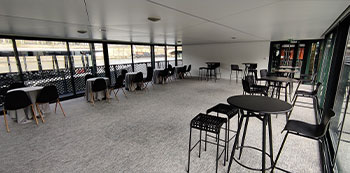 Modular spaces to suit your needs
On request
With the necessary number of chairs and tables, you can arrange the spaces on the barge according to your criteria!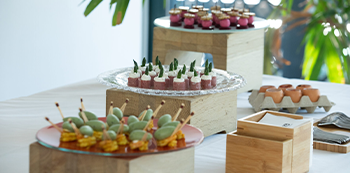 Benefit from the culinary qualities of the 4810 caterer
On request
Call on the services of our long-standing partner 4810 to organize magnificent dishes that will delight your guests!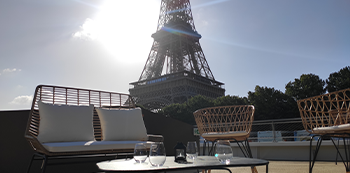 A stunning view of the Eiffel Tower
-
Let yourself be impressed by the view of the Eiffel Tower and the Bir-Hakeim Bridge in the background!

For other occasions
A new address for all your events, combining discreet elegance for an experience that will charm all your guests!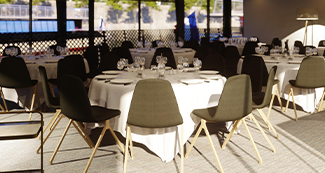 Event Venue Paris
At one point or another, everyone ends up searching for the perfect event venue. Whether for a wedding, a private party, or a work function, we all hope to find that ideal location that stands out from the rest. It should be just as memorable to you as for all those in attendance.
If you're looking for a unique event venue in Paris, look no further than the venues of Vedettes de Paris!
Throughout the city of Paris, there are countless venues to choose from for any type of event, but Vedettes de Paris offers something truly extraordinary – multiple venues that traverse the Seine, providing an ever-changing backdrop for guests and attendees to enjoy at any type of event.
Any Party on a Boat for Your Event Venue in Paris
No matter the event you're planning, Vedettes de Paris has a floating venue that will suit you, regardless of the event's size or style.
For example, the Gustave, one of our newest vessels, can accommodate 200 guests for a strolling cocktail party, 150 seminar attendees, or 100 individuals for a sit-down meal, such as a wedding reception. Utilize the main deck, lower level, panoramic terrace, or the private VIP space, and make your event truly one-of-a-kind!
If you're planning a party that requires a smaller event venue in Paris, then consider one of our more intimate boats, such as the Paris Etoile, Paris Trocadéro, or Paris Iéna. The Paris Etoile can hold 110 people for a cocktail party, 50 for a seminar, and a maximum of 60 for a seated meal. Sister ships, Trocadéro and Iéna boast space for a cocktail gathering of 70, an informative seminar for 30, and a seated meal for up to 40.
Intimate wedding ceremonies and receptions can best be served by the Paris Etoile or one of the sister ships, while a professional conference can comfortably fill the Gustave. All ships are equipped with dedicated catering spaces ready to create a table service or buffet-style meal, audio/visual hook-ups for presentations and entertainment, tables, chairs, and of course, incomparable views of Paris from the water.
Vedettes de Paris is also prepared to connect you with our phenomenal event partners, including musicians, bands, magicians, motivational speakers, DJs, caterers, florists, and companies that provide event entertainment, such as photo booths and karaoke machines. So, whether you choose to sing, dance, listen, or sip and eat, we've got you covered with a variety of options!
The most popular events that take place on our mobile and modular venues are private receptions, weddings, and work seminars, but our boats are a fun setting for other events too! Birthdays, graduations, anniversaries, vow renewals, corporate holiday parties, or whatever else comes to mind! Don't hesitate to contact us about rates and availability for your next event venue in Paris.
Photos of the barge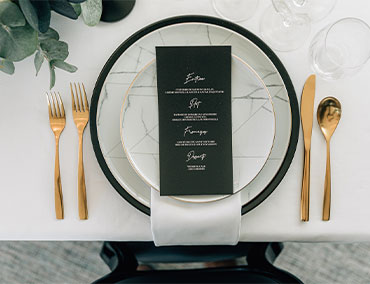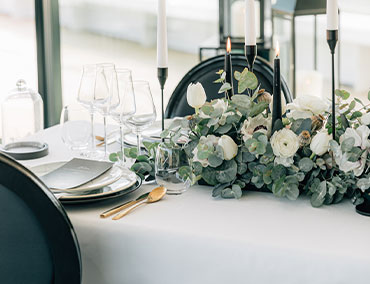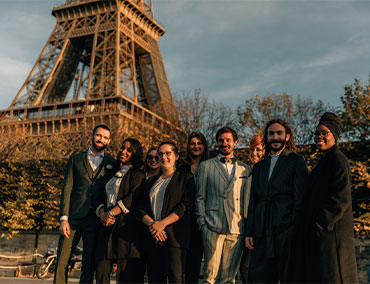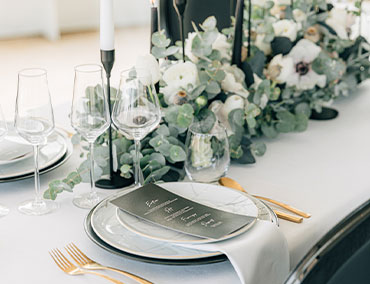 FAQ
Questions & answers about barge rentals in Paris
Yes, the Gustave, Paris Etoile, Paris Trocadéro, and Paris Iéna all house dedicated catering areas for private parties, wedding receptions, strolling cocktail hours, etc. Each boat can accommodate cocktail parties and seated dinners of varying sizes. We also offer our own catering services that focus on local and seasonal products.
For private parties, weddings, and other events, we have a list of businesses we partner with posted
online
. We have recommendations for caterers, florists, and entertainment, including singer-songwriters, DJs, karaoke, magicians, photo booths, games, and more!
A boat tour lasts approximately two and a half hours, but that's contingent upon factors such as weather and river traffic. Once the trip is complete and the boat has moored, gatherings or receptions may continue as a stationary wedding venue in Paris as long as that has been previously discussed and agreed upon with management.

A unique location at the foot of the Eiffel Tower
Port de Suffren - 75007 Paris
+33 (0)1 44 18 19 50
Pedestrian access by Pont d'Iéna, left bank or by Bir-Hakeim bridge.
Metro Line 9: Trocadero Station Metro Line 6: Bir-Hakeim Station
RER line C : Champ de Mars
Bus Lines 42, 69, 82, 86 : Champ de Mars stop Bus Lines 22, 30, 32, 63 : Trocadero stop